This page lists some tools and visualisations powered by the OpenDataCommunities Platform.
---
Indices of Deprivation Map Explorer
Built in-house at DCLG, this Deprivation Map Explorer allows you to explore the 2015 Indices of Deprivation in an interactive map. You can choose the overall Index of Multiple Deprivation, or one of the individual domains. You can search the map by place name or postcode.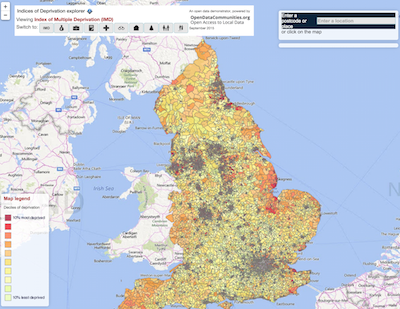 ---
IMD: lookup by postcode or local authority
Two tools are available allowing you to download the 2015 English Indices of Deprivation cross-referenced with postcodes.
IMD postcode lookup: upload or type in a list of postcodes, and receive a download in Excel or CSV format containing deprivation data for those postcodes.
IMD area lookup: choose a county or district, and receive a download in Excel or CSV format containing a list of all postcodes in that area, together with corresponding deprivation data. Optionally, you can limit the results by deprivation domain, or by decile.
---
Local Authority Dashboard
The Local Authority Dashboard allows you to view a selection of the data that we hold about Local Authorities via a series of charts and maps.
You can search for a Local Authority by entering a postcode, or browse by name. For each figure, there are links to the source data point(s) in the database, from which they are derived.
The dashboard is not intended to be an authoritative or exhaustive representation of the data: it provides an introduction to the types of data we hold, and additionally serves as documentation and inspiration to developers of other visualisations or applications.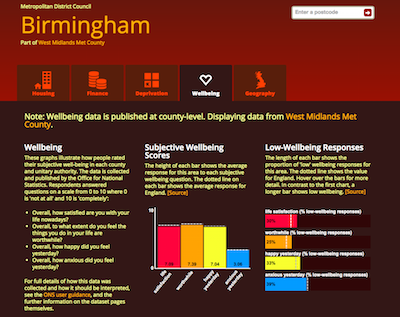 ---
Business Plan Dashboard
This dashboard enables users to see how the department is performing against key indicators in priority areas.
The data on the dashboard widgets and detail pages are pulled in 'live' from the OpenDataCommunities APIs. This data-driven approach means that as new data arrives for the indicators in the data store, the dashboard is automatically kept up to date.
Additionally, the dashboard widgets can be easily embedded into any website or blog by copying and pasting a little bit of JavaScript. As the widgets pull in data directly from the data store, figures will always be kept current.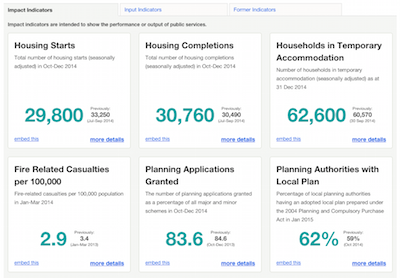 ---
Wellbeing Map Explorer
The Wellbeing Map Explorer allows you to explore, on a draggable map, how people in different areas of the country rate their subjective wellbeing. For each county and unitary authority, the data was taken from the Office for National Statistics Annual Population Survey. Below county level, the likely degree of variation in wellbeing between neighbourhoods is modelled from the APS using ACORN.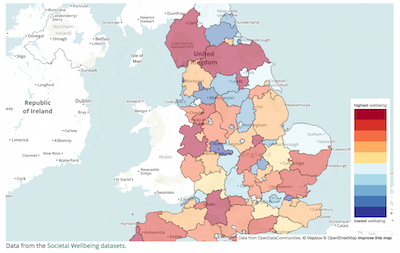 ---
2010 Deprivation Map Explorer
The 2010 Deprivation Map Explorer uses the 2010 Index of Multiple Deprivation Datasets along with the LSOA boundaries to plot and colour-code the deprivation values on a draggable map.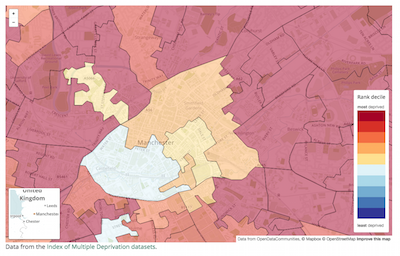 ---
Spreadsheet Builder
We've updated and improved our popular Stats Selector, to be an even friendlier and more powerful way to build custom downloadable spreadsheets cutting across all the data on the site. Try the Spreadsheet Builder.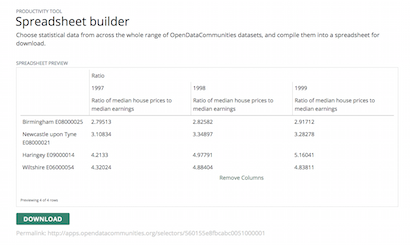 ---
Geo Selector
As a companion application to the Spreadsheet builder or a handy utility in its own right, the Geo Selector provides a map-based interface to navigate the maze of England's administrative geography.
---